Nov 29, 2016
Expect great things for HaunTopic Radio in 2017! Behind-the-scare interviews with professionals in the Haunted Attraction Industry, helpful advice to grow your Haunt from other Haunters, and a brand new website focused on those who want to start & grow their haunted attraction business.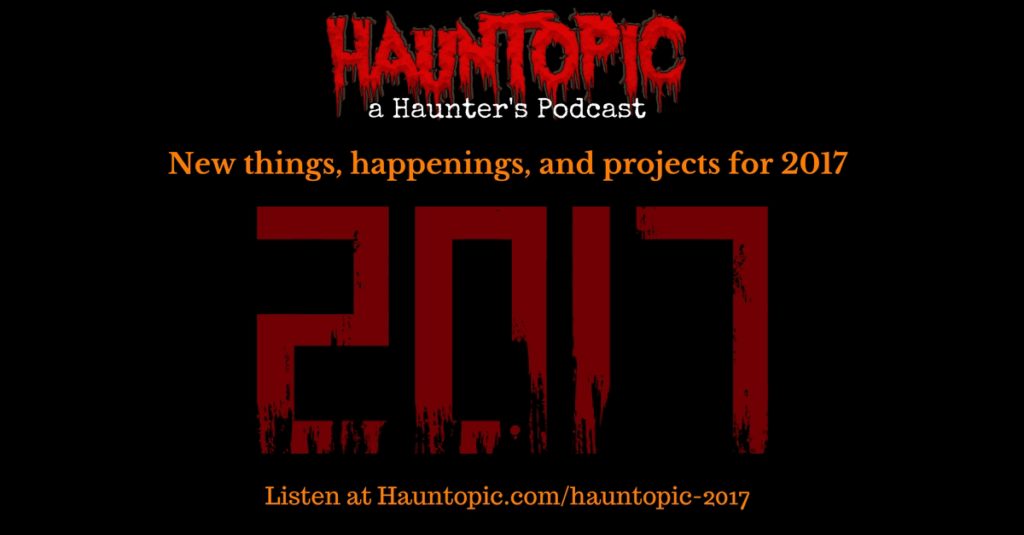 Man!! What a crazy Haunt Season! How was your October?? I had planned to release more podcast episodes in September and October but the Dead Factory grabbed a hold of me and didn't let go. What started as a few small additions to our Haunt grew into over another 1,000 square feet of spiders and cemetery. We built more wall panels, added an effective spider area, and turned our small cemetery scene into a small indoor corn maze.
Now the Dead Factory is over 7,000 square feet! What originally started out as an idea quickly grew into a huge addition to our 20 minute walk-through. But we will have more episodes on that coming soon. As well as stories and highlights from our co-host Darryl Plunkie's adventures up there in Canada. Stay tuned for those podcast episodes coming soon.
What's NEW for HaunTopic Radio in 2017?
Audio Episodes focused on starting and growing your Haunt: Whether you're a Pro Level Attraction searching for new ideas to take your Haunt to the next level or a Home Haunt that would love to be a bigger Haunted Attraction one day; you'll find some nuggets of wisdom inside our podcasts.
A NEW website focused on Starting and Growing a Haunted Attraction: I started HauntersToolbox.com last year and realized building this vision in my head was going to take a lot longer than I thought. This vision will be complete in 2017! This website will include a free membership for you if you want access to our Haunt Video Library and include a free Haunter Dashboard. This website will also have a paid membership feature that will grant you instant access to all of our Haunt Video Training Seminars, Live Training Seminars, and discounts on Haunt supplies and events. (Coming Soon)
An update to our email newsletter: Well...it's a bit more than just a newsletter. Once you sign up for our free newsletter, you get some of our favorite articles and podcasts that we have hand selected for you. You also get all of the new podcast episodes we release. We will also be adding newer articles, more helpful resources, and revamping most of our material. We are trying to add the most value to you- the Haunter that wants to instant results and guidance along the way. Email me at any time by replying to any of these emails. I will respond. You can subscribe for free here. We are looking forward to helping you be the best Haunter that you can be. And we thank you for sticking with us through the years and being a loyal listener to over 100 podcast episodes! You rock!!
3 Christmas Tracks from Midnight Syndicate in this podcast!