Dec 18, 2017
If you're like us, you never get tired of stories from Haunt Season. We never get tired of talking about it. Here are the highlights from our experiences as Co-owner of the Dead Factory Haunted House (Brian Foreman) in Missouri and Manager of the Deadmonton Haunted House (Darryl Plunkie) in Canada.
Deadmonton Haunted House (Edmonton AB Canada)
"The first haunted house I've been to! Waited in line for a few hours but worth it! Actors walked around while we were in line to scare us, so awesome. The haunted house was so well done! Scared me so much, jumped so much, laughed so much. Well done!! So much fun! Well worth the price and the wait!!" -Kayla Bourgoin
"Wonderfully terrifying experience. Arrive early in the day to get a good place in line, unless you're willing to dish for speed passes. Crazy amounts of imagination go into this 45 minute plus experience. Try not to rush through, but be forewarned. . Do not walk to slowly either :/" -Kristine Lynn Bowman
Dead Factory Haunted House (Mexico, Missouri)
"I've been through the super fancy haunted houses at Halloween Horror Nights in Universal Studios - Orlando, and The Dead Factory blew those big budget houses away. The actors are superb, the scared are bone chilling, and you can feel the level of care that they put into their craft. This will most definitely become an annual tradition. A huge thanks to everyone who made this entertainment possible." -Charles Dallas Parrott
"We just got done going through the house and I am still shaking. I ran out of there as fast as I could and I am not going to have a voice tomorrow! So much fun! You can tell these guys love what they do! Awesome price awesome & people check it out!" -Claudia Holt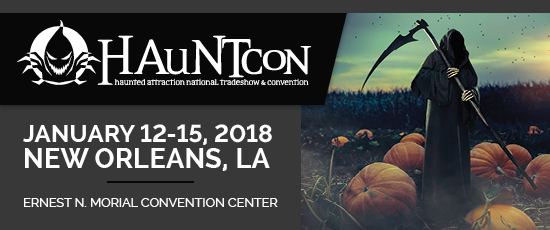 Visit Us at Booth 110 at HAuNTcon & use code HAUNTOPIC for a FREE Show Pass!