Nov 21, 2017
Everything you need to know about the HAuNTcon: Haunted Attraction National Tradeshow and Convention and The Halloween & Party Expo in 2018. Located at New Orleans, Louisiana on January 12-15 . Well...almost everything.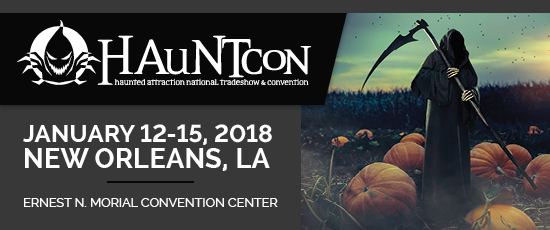 New Orleans...scary stuff....Haunters...costume ball...Haunt Tours...Haunt classes...oh and so much more! In this podcast episode, we go behind the scenes of HAuNTcon 2018 with Liz Irving, the Vice President of Marketing and wearer of many hats behind the show. We discuss new events for HAuNTcon, what's included with each admission ticket, the new tours in New Orleans, and much more.
If you've never been to a HAuNTcon gathering, then this will be a great opportunity for you to visit the history of New Orleans and get your Haunt On during the show.
To see the complete lineup of events and pricing go here HAuNTcon.com. (Use code HAUNTOPIC to get a free show pass)
Overview of HAuNTcon 2018: a Haunt Show for all Haunters
3 days of HAuNTcon education. Learn from the best in the haunt industry.
HAuNTcon and Halloween & Party Expo trade shows. So much ground to cover.
Show floor networking events. Meet new friends.
Live hands-on demonstrations. Get messy and learn.
Thursday pre-show inspiration tour. See the heart of New Orleans.
Friday Costume Ball. Party with other Halloween freaks like you.
Saturday night lights off tour at the Rise Haunted House
Sunday Garage Sale. Buy at huge discounts!
Monday advanced workshops. Dive deep into one topic.
-Come say Hi to us at Booth 110!-
This will be the second time that the crew of HaunTopic Radio will be together and we want you to join us at HAuNTcon this year. We will be in Booth 110 grabbing sound bytes from Haunters and any attendee that wants to say Hi. We will also be floating around the show floor capturing video and audio interviews from cool people like you.
What is HAuNTcon? (watch this video for your answer)
We hope to see you in New Orleans in January!