Oct 11, 2017
The forgotten audio recordings of the Transworld Halloween & Attractions Show. We got so busy with Haunt Season that we almost forgot part 3 of our compilation from the Transworld Haunt Show. We've compiled the last remaining interviews and stories behind the Scares...just for you! And some Scary tunes too!!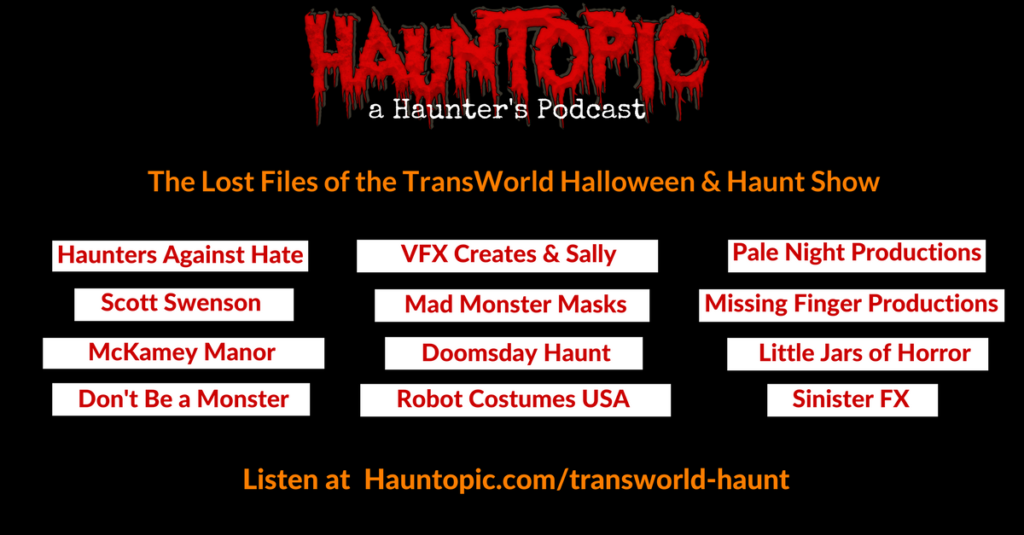 What is the Transworld Halloween & Attractions Show?
Transworld is the largest trade show focused exclusively on Haunted Attractions, Corn Mazes, Escape Rooms, and Halloween. With hundreds of supply vendors, how-to classes, live demonstrations, and networking parties to meet other passionate scary people like yourself. Their website is http://haashow.com
Who is on this special audio podcast from the TransWorld Haunt Show?
Haunters Against Hate
Scott Swenson Creative Development
McKamey Manor
Don't Be a Monster
VFX Creates
Mad Monster Masks
Doomsday Haunt
Robot Costumes USA
Pale Night Productions
Missing Finger Productions
Little Jars of Horror
Sinister FX
Haunt Music played in this podcast:
"Building the Monster" -Midnight Syndicate
"Halloween Night" -Sam Haynes
"Dark Vesper" -Music for Haunts
"Grim Grinning Ghosts" -Haunted Mansion at Disney
Haunted Attraction Events coming up:
More good stuff from HaunTopic Radio:
What Haunt or Halloween Shows Do YOU go to?