Feb 6, 2017
In this one hour audio podcast episode, you will learn haunted house scare acting ideas from Darryl Plunkie (my co-host and scare actor at Dedmonton House) and pick up a few tips from (me) Brian Foreman on Managing the Dead Factory Haunted House in Mexico, Missouri.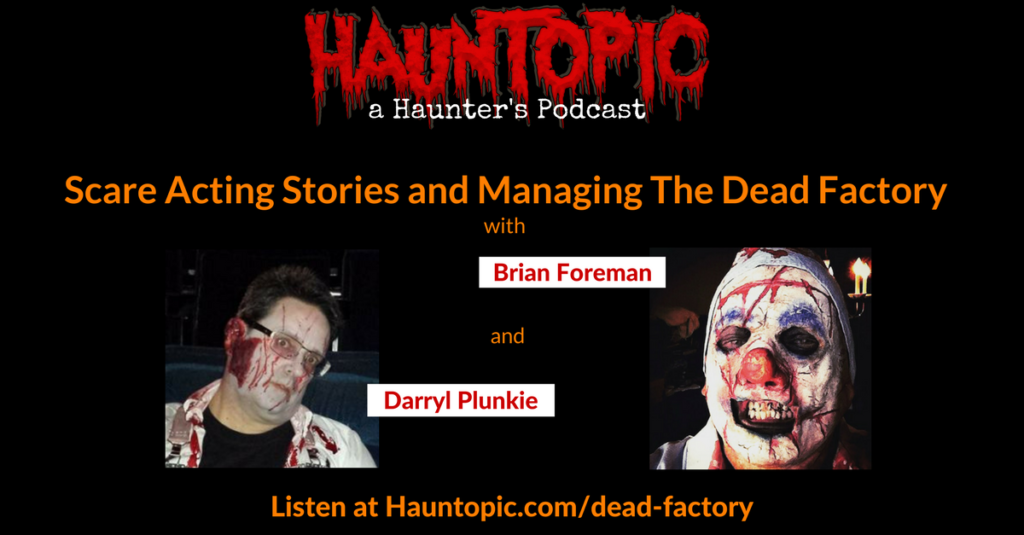 Scare Acting Stories and Ideas from Deadmonton House
Darryl Plunkie, co-host of HaunTopic Radio and Haunted House Scare Actor at Deadmonton House-Canada, knows his way around a Haunted Attraction. Passionate about Horror and Halloween most of his life, he has helped many themed events prepare before the big show by decorating and filling the rooms with a warm body whenever Scare Acting duty calls.
Darryl believes in not just scaring the patron walking through the Haunt but to ENTERTAIN the patron. "People are either paying with their money or their time....sometimes making them laugh can get them off guard just enough and sets them up for the next scare. If you can't scare them, make them at least remember you."
Darryl also throws in Things to Say as a Scare Actor, What to do in an Emergency, and Scare Tactics You Can Try.
Managing the Dead Factory Haunted House
I have been doing this thing called 'Haunting' since I was a teenager but didn't really know it was a thing until around 2004. I started out as a volunteer Scare Actor helping my brother at a local area Haunted House. When that place closed down, we decided to build an outdoor haunt behind my brother's property called Backwoods Terror.
That lasted a few years until circumstances led for us to shut the doors on that haunt venture. I moved on to decorating my garage for trick-or-treaters (called Home Haunting) and practiced my decorating and scaring techniques for a few more years. This all led up to The Dead Factory in Mexico, Missouri. This is where I am Co-owner, manager, decorator, and wear many other hats as a Hauntrepreneur.
I go over Staying Flexible as a Haunt Manager, Where we are spending our budget next year, and a peek behind the doors of my Haunted Attraction- The Dead Factory.
Bonus Material in this podcast
Marketing ideas from Tyler Barnett and Phillip Hernandez (Marketing Monday-Haunted Attraction Network)
A sample soundtrack from inside The Dead Factory Haunted House.
3 NEW Haunt Happenings from within the Haunted Attraction Industry